by VALERIA PALIERI
Page 34 of Via Condotti
Read Via Condotti – Winter 2015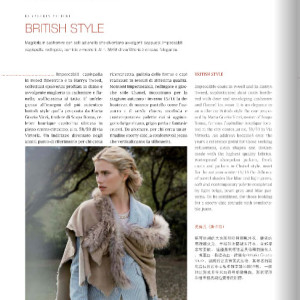 Impeccable coats in tweed and in Harris Tweed, sophisticated dust coats bordered with deer and enveloping cashmere and flannel knitwear.
It is an elegance in an authentic British style the one proposed by Maria Grazia Virzi, owner of Scapa Roma, famous Capitoline boutique located in the city center, at no. 58/59 in Via Vittoria.
An address becameS over the years a reference point for those seeking refinement, clean shapes and clothes made with the highest quality fabrics.
Waterproof sheepskin jackets, frock coats and jackets in Chanel style, meet for the autumn-winter 15/16 the delicacy of pastel shades like blue and light green, soft and contemporary palette completed by light beige, pearl gray and blue patterns.
To be combined, for those looking for a sporty chic attitude with comfortable jeans.